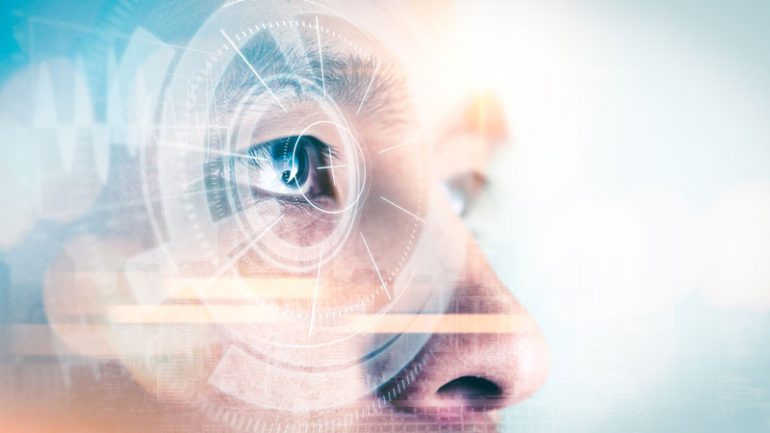 What's Behind the LASIK Technology?
Today, millions of people worldwide enjoy the benefits of restored vision through laser vision correction1, commonly known as Lasik. However, did you know there are other laser vision correction technologies apart from Lasik?
For those of you who are thinking of correcting your vision, you will be assured to know that the technologies that we use today have come a long way since the first vision correction method was discovered.
1960s: Invention of Keratomileusis (aka Corneal Reshaping)
A Discovery That Started It All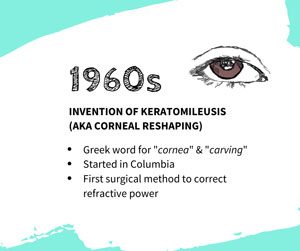 Did you know that LASIK actually stands for Laser-Assisted In-Situ Keratomileusis? Keratomileusis may sound complicated, but it's actually a Greek word that means carving the cornea. The invention of Keratomileusis marked the beginning of the development of the LASIK technology that we know today.
Keratomileusis was the first technology in the world that could correct myopia (aka short-sightedness), and it involves slicing part of the cornea to alter its shape2a.
Barraquer's Vision – Where It All Began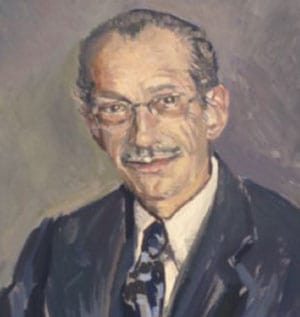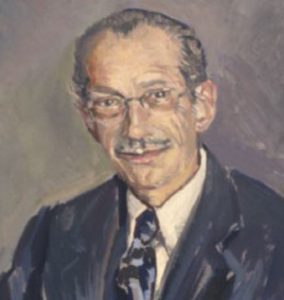 This technology was first developed in Columbia by Spanish ophthalmologist, Professor José Ignacio Barraquer who was fed up with glasses and wanted a solution to correct poor vision2b. Since then, this technique was further developed, due to the subsequent introduction of excimer laser technology, leading to more precise ways of reshaping the cornea and eventually leading on to the LASIK3 procedure as we know it today.
1970s: Discovery of Radial Keratotomy (RK)
Radial Keratotomy was a primary method used around the world to treat myopia between the 80s to 90s4. Even though the technique was successful, it was soon replaced by laser refractive options.
A Serendipitous Discovery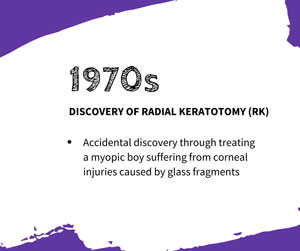 Did you know this technique was discovered accidentally? Russian ophthalmologist, Svyatoslav N. Fyodorov, first discovered Radial Keratotomy5 while he was attending to a young myopic boy suffering from corneal injuries caused by glass fragments. To save the boy's sight, he made incisions extending in a radial pattern in the boy's eye. This process of removing the glass pieces changed the boy's cornea shape and had the unintentional effect of correcting the boy's myopia and improving his vision significantly.
1980s: Celebrating the Birth of Photorefractive
Keratectomy (PRK) and LASIK
1980s: Celebrating the Birth of Photorefractive Keratectomy (PRK) and LASIK
The 1980s saw a breakthrough in the development of refractive surgeries – the invention of the excimer laser replaced Radial Keratotomy (RK) and transformed Keratomileusis to newer refractive technologies such as PRK and LASIK6.
Excimer Laser to Photorefractive Keratotomy (PRK)
Ophthalmologist Stephen Trokel approached three researchers in New York's IBM ® Thomas J. Watson Research Center, who were then exploring potential uses of the excimer laser7, to develop an excimer laser-based refractive technology.
With the researchers' findings, Stephen Trokel invented Photorefractive Keratectomy (PRK)8 together with Ronald Krueger. This marked the leap from using surgical blades to using lasers in eye surgeries, making the procedure safer, less invasive and more precise.
A Star is Born – Laser In-Situ Keratomileusis (LASIK)
After the discovery of PRK, Gholam A Peyman was granted the patent of Laser In-Situ Keratomileusis (LASIK), which combines the technique of first creating a hinged corneal flap with the subsequent use of excimer laser ablation as in PRK9 but now under the protection of a flap. Among all the vision correction procedures, Lasik remains the most well-known to people all over the world even till today.
1990s: LASIK and PRK Approved by US FDA
1990s saw both LASIK and PRK technologies get approved by the United States' FDA (Food & Drug Administration)10.
However, as the top layer of the cornea is removed in PRK, the recovery is slower and more uncomfortable11. Therefore, it became less popular after the LASIK was introduced12.
2000s: Traditional LASIK to All-laser LASIK
Uncovering The Potential of The Femtosecond Laser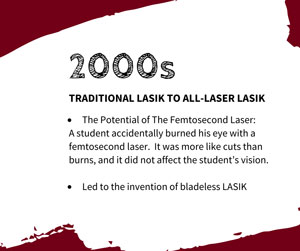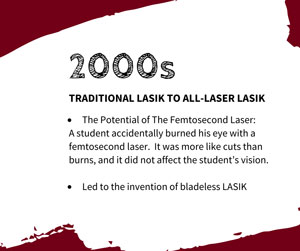 A femtosecond is one-millionth of one billionth of a second. Femtosecond lasers emit optical pulses that are the shortest, densest and most powerful bursts of energy that can be produced in a laboratory13.
Here's another accidental discovery – an engineering student in the Michigan Engineering's Center for Ultrafast Optical Science (CUOS) accidentally burned his eye with a femtosecond laser. Ophthalmologist Ronald Kurtz was amazed when he examined the student as the burns caused by the laser turned out to be more like cuts than burns, and that the laser was so precise that it did not affect the student's vision. The incident made Ronald Kurtz and laser physicist, Tibor Juhasz, realise the unique properties and potential of the femtosecond laser, which lead to the invention of all-laser LASIK14.
Advancement of LASIK to All-laser LASIK
In traditional LASIK, a corneal flap is created with a blade15. Instead of using the blade, the femtosecond laser now creates the corneal flap by breaking cells apart16 in a more precise fashion.
Today, many ophthalmologists opt for procedures that use the femtosecond laser technology as it is safer and more precise. This also means that there are lesser complications, and that the procedure can be customised to your needs17.
Today: ZEISS SMILE® (Small incision lenticule extraction)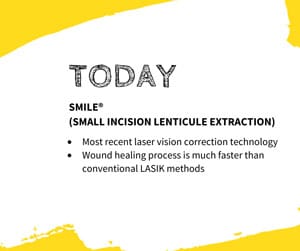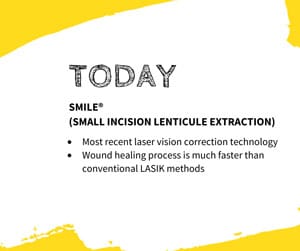 The discovery of femtosecond laser also led to the development of ZEISS SMILE® (Small incision lenticule extraction)18 – the most recent laser vision correction technology introduced in 2006. Like LASIK, ZEISS SMILE® permanently changes the cornea shape to correct refractive powers and minimise or potentially eliminate the need for glasses or contact lenses.
However, as ZEISS SMILE® only requires a small incision instead of a corneal flap, there are reduced complications as compared to conventional LASIK methods19. Today, ZEISS SMILE® eye surgery is increasing in popularity globally20 due to its faster wound recovery and propensity to incur minimal pain.
Your Next Step to Better Vision
More than 10 million people in the world have had laser vision correction done since LASIK was first approved by the FDA in 1991. They say that the best gift is the gift of sight, and many have realised what the investment in restored vision could bring.
If you are seeking to correct refractive disorders such as myopia (nearsightedness), hyperopia (farsightedness), astigmatism and presbyopia, why not take your next step to see better today?
Schedule a consultation with us today!
Dr Marc Tay
Senior Consultant
MBBS (Singapore), FRCS (Glasgow), FRCOphth (United Kingdom), FAMS (Ophthalmology)
Dr Marc Tay is the Senior Consultant, Ophthalmologist at LSC Eye Clinic. He is an experienced ophthalmologist who has been practising for more than 30 years. Dr Tay was one of the founding members of the Laser Vision Centre at the Singapore National Eye Centre when the laser vision correction technology was first introduced in Singapore.