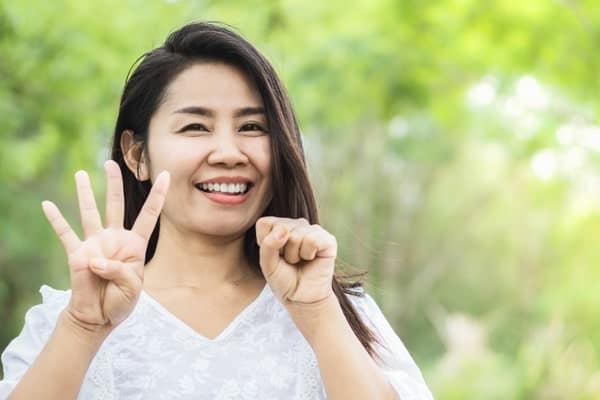 6 Reasons for an Eye Examination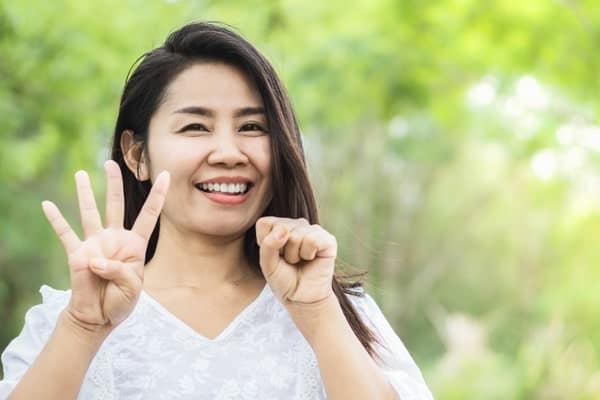 We use our eyes and vision for a vast variety of tasks and activities – our jobs, social interactions with family, friends and loved ones, hobbies, reading, sport, and driving all depend on having healthy eyes and excellent vision. These underscore the importance of having good eyesight!
As we get older, the eyes undergo changes which can have an impact on our sight and the well-being of our eyes. This impact may not be immediately obvious, because we are typically able to cope with many of these changes in the initial stages. For instance, in order to read better, we may remove our spectacles or hold the reading material further away from us. We may decide to use brighter lighting in order to appreciate light or fine print. We may also choose to avoid some activities, like driving at night. At other times, we try to bear with the symptoms of itchiness, dryness, and discomfort – because we accept this as part and parcel of a dusty urban environment.
With each birthday celebration, you are at higher risk for specific eye conditions, which can have a major impact on your sight and thus your overall well-being!
#1 Deteriorating Vision Can Affect Your Daily Life Significantly
Even the seemingly simplest day-to-day activities, such as enjoying a meal, requires the ability of crystalline lenses in the eyes to be supple enough to focus the image of food well onto the retina, and for retinal cone cells to be optimally working, in order for us to best appreciate the form and colour of the food.
However, individuals in their late 40s to early 50s begin to develop presbyopia, which reduces the ability to focus for near. Some people experience an increased difficulty for reading, while others need to remove their glasses in order to read better.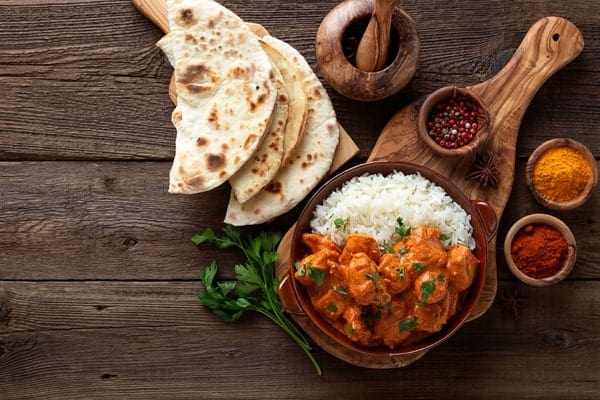 Driving is another fairly involved activity where the driver has to occasionally change the focus of the eyes from scanning the horizon to glancing at the dashboard. Good side vision is also important to detect cars, pedestrians, or cyclists coming onward from the side.
Glaucoma affects side vision and can be a frequent cause for road accidents. In night-driving where illumination is reduced, cataracts further limit light entry into the eye, or may even cause glare and halos from light scattering, causing even greater difficulty.
#2 Eye Diseases Can Catch You Unaware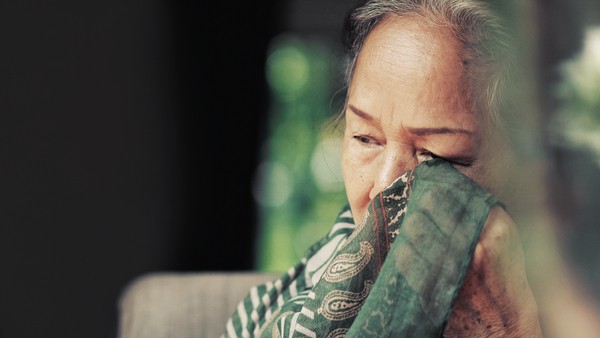 Many common sight-threatening eye diseases, such as cataracts, glaucoma, age-related macular degeneration, and diabetic retinopathy, in a similar way to general medical conditions such as diabetes and heart disease, are often silent in the initial stages. Whilst ongoing damage occurs to vital structures in the eye in these eye conditions, many people are often unaware of the visual impact, as there is little to no reduction in visual functioning early on.
#3 Early Detection = Early Treatment = Better Outcomes
Very importantly, the early stages of the disease in general represent windows of opportunity for which timely detection and treatment can stop, reverse, control, or slow down worsening of the disease. Hence, much importance is placed on a comprehensive eye examination, to prevent avoidable vision loss.
#4 An Opportunity to Detect Other Mild Eye Conditions (Which Can Be Treated)
Even if one does not have sight-threatening disease, an eye examination can also confirm less serious eye conditions like dry eye or digital eye strain from overuse of hand-held electronic devices, or that your eyes have a tendency for mild allergies, or just simply that your spectacle prescription has changed!
#5: The Eyes Are a Window to the Rest of the Body
Patients with diabetes, high blood pressure, and abnormal cholesterol levels develop changes in the blood vessels in the eye. Very rarely, a swollen optic nerve in the eye may be the very first sign allowing detection of a brain tumor in a person who does not have any other bodily symptoms!
#6 If You Have Had Eye Surgery Before
Perhaps you have had laser refractive surgery (e.g., LASIK or surface ablation/PRK procedures) to correct your short-sight or astigmatism before in your youth. However, it has been some time since you've last had an eye exam.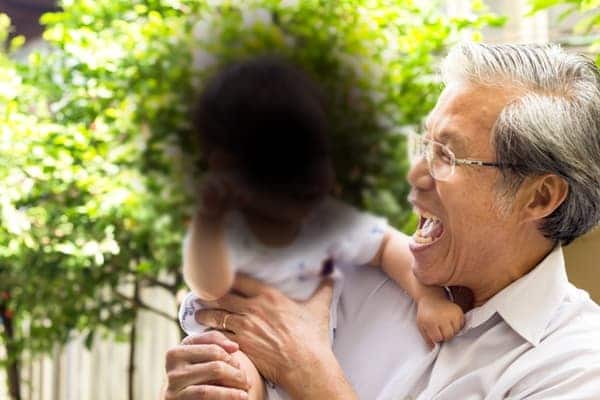 Changes in vision may be starting to develop, and it is equally important to assess if any change has occurred in your corneal shape over the years, which can rarely occur with previous laser refractive surgery. Or unrelated to that, you might be starting to develop presbyopia early, and are finding it more difficult to read without a pair of reading spectacles. Or that you could be developing early cataracts and all you need is a pair of glasses to help optimize your vision for the next few years!
A comprehensive eye assessment at LSC Eye Clinic – which includes a series of eye tests and consultation with the ophthalmologist – can give you an overview of the general health of your eyes. Depending on the age of the patient and the examination findings, the ophthalmologist will be able to advise if further testing is required.
When Is An Eye Examination Recommended?
The American Academy of Ophthalmology (AAO) is the largest professional medical association of ophthalmologists based in the United States and develops guidelines for eye diseases. It recommends a baseline eye examination for ALL adults aged 40 years and older with visual symptoms or prior risk factors for eye disease, because early signs of eye disease often develop at this age, and can be detected with an eye check by an ophthalmologist.
In individuals less than 40 years of age with visual symptoms or contributing factors for eye conditions, an eye examination is necessary to determine the nature of the problem. Such risk factors include:
Use of contact lenses
A family history of eye diseases
Medical condition(s) which increases risk of eye disease (e.g., diabetes, high blood pressure, high cholesterol, heart disease or previous stroke)
Being on medications with toxicity to the eyes (e.g., hydroxychloroquine for rheumatoid arthritis)
Where Can You Get Your Eyes Examined?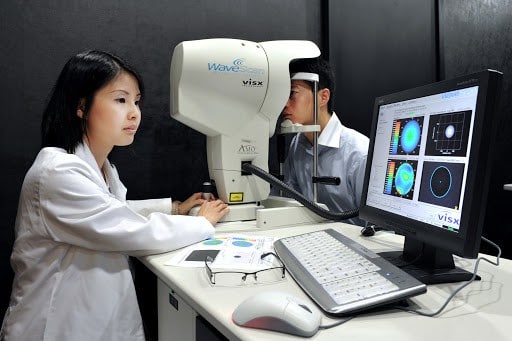 In Singapore, eye assessments for the purposes of early comprehensive detection of eye conditions are mainly performed by ophthalmologists (i.e., an eye specialist), who is a medical doctor with special expertise in the diagnosis and treatment of eye conditions.
FAQs on Eye Exams:
What does a consultation for a comprehensive eye exam involve?
You will consult with an ophthalmologist. During the consultation, the ophthalmologist will enquire with you on your usual list of activities, hobbies, history of eyewear use, and prior eye injuries or surgeries, personal medical and family history.
A vision test and refraction assessment will be conducted, and the ophthalmologist will compare your current spectacle or contact lens prescription to this.
The ophthalmologist will be specifically checking for conditions such as glaucoma, cataract, macular degeneration, and for diabetic retinopathy in patients with diabetes. The eye pressure would be measured. Scanned images of the eye will also be taken to assist in the assessment. With this evaluation, other eye conditions (e.g., retinal tears) can also be detected.
Once these checks are done, the ophthalmologist will discuss with you whether your eyes are healthy – for instance, if all you need is mild treatment, such as a change of glasses, or perhaps just eye lubricants for dry eyes. You will also be advised if further testing is required to confirm or further manage any diagnosis. Preventive steps to prevent worsening, or treatment, may be recommended if appropriate.
How long does a comprehensive eye examination take?
The actual consultation, eye dilation and examination requires a minimum of 2 hours. If further testing is required, more time would be necessary.
What do I need to bring on the day of the eye examination?
Do bring all the glasses and contact lenses you currently wear, along with lens solution and case for contact lenses. If you are a contact lens-wearer, you will be required to stop wearing your contact lenses at least 3 days before your appointment. (For hard lenses, kindly stop wearing your contact lenses for at least 14 days.)
Can I drive after the eye exam?
As part of the eye examination, dilating drops will be placed in your eyes. These drops blur the near vision, but do not in general affect distance vision, apart from causing a visual sensation of increased glare. Some individuals are particularly sensitive to glare and this may cause one to feel a somewhat strange visual sensation and often a slight inability to precisely judge distances. Thus, going down stairs may need extra care, until the effect of these drops wear off. We thus recommend that you do not drive on the same day as your appointment. A pair of sunglasses would also be very useful after dilation. If you do need transport, we recommend that you bring someone along with you, or to take public transport.
At LSC Eye Clinic, we believe that it is important to maintain your eye health and that early detection is essential to maximize chances of a full recovery and safeguard your vision. We are committed to helping you achieve the best possible vision. If you would like to find out more about how easy it is to arrange and go for a comprehensive eye examination, contact us today!
Dr Errol Chan
Consultant
MBBS, MMed(Ophth), MRCSEd,
FRCSEd, FRCOphth, FRCS(Glasg), FAMS, FRCS(Canada)
Dr Errol Chan has international experience in caring for patients with eye diseases, having worked at various eye centres in the world. To date, he has performed thousands of cataract and vitreoretinal surgery procedures.
His practice centers on all aspects of general and emergency ophthalmology, with special expertise in cataract surgery, the medical and surgical treatment of retinal diseases, and uveitis. Dr Chan's meticulous approach emphasizes quality care, safety, honesty, and empathy. His personal ethos is to provide the most appropriate treatment for every patient to achieve the best possible vision.
Request for an eye examination today.

Monday to Friday: 9am to 6pm
Saturday: 9am to 4pm
*Last Registration Time 2pm
Sunday & PH: Closed